Be a part of #FootballFriday
supporting centrepoint
join Hits Radio Cash For Kids and Tackle4MCR in tackling homelesssness for young people in Greater Manchester
Enter your details below to register your interest in fundraising for #FootballFriday on Friday 28th June.

Don't Forget you will receive a fundraising pack at the end of your sign up
Show your true colours for #FootballFriday
Support young people who are at risk of becoming homeless
Hits Radio Cash for Kids and Vincent Kompany's Tackle4MCR have joined forces to create #FootballFriday. The fundraising day encourages you to show your colours on Friday 28th June to help tackle homelessness. By getting involved you'll be supporting young people in Greater Manchester who are at risk of or have become homeless.

Whether you encourage your colleagues or classmates to wear their football colours for the day or organise a charity football match, all the money raised on #FootballFriday will go towards Centrepoint who give homeless young people a future.
Receive your #FootballFriday fundraising pack!
Enter your details below to get involved
You will be able to download your fundraising pack after you have registered your details...
Vincent Kompany
Tackle4MCR
This city is a bigger, better place than the place I came to ten years ago.

Yet through it all, homelessness has become a growing concern. We must be honest about that. That's why I came up with this idea.

I want to shine a spotlight, raise money and to work with partners so that people do not have to sleep rough. I want them to have the dignity they deserve. To do this, I am working with the Mayor, Andy Burnham, and with important partners. I am honoured to have these people alongside.

So, obviously this is not about being Blue, Red, any colour or no colour. It is about being a Manc.

I know it is not easy, but I think it is in the character of Manchester to get started on a problem and then work out all the issues and details as we go along. And the problem is urgent. That is why I am dedicating my testimonial year to the homeless of this city.

Please support Tackle4MCR,
Vincent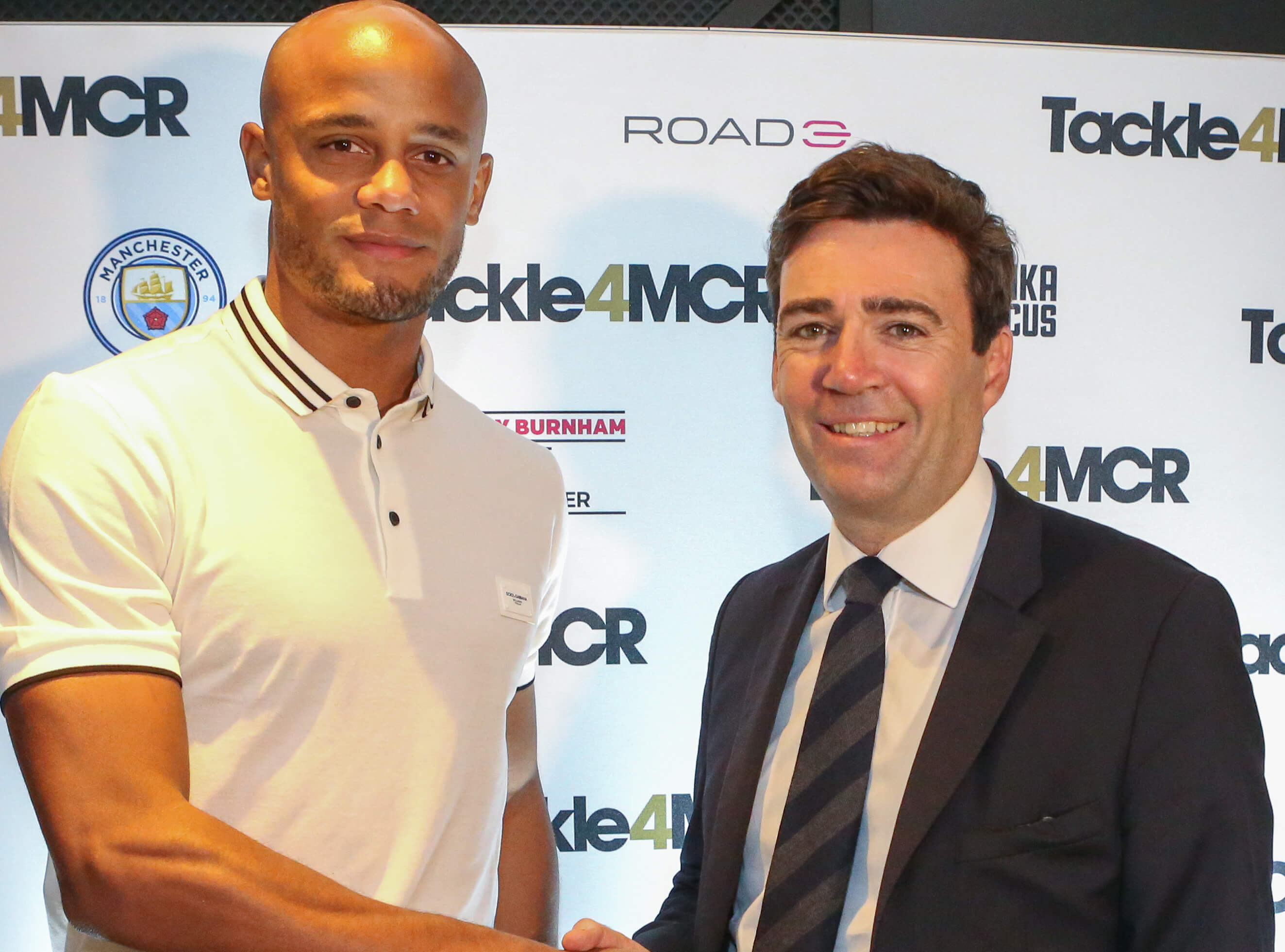 Donate Online

Donate by text
Give £10 by texting HITS to 70808*

Donate by post
Make cheques payable to Hits Radio Cash for Kids and post them to Cash for Kids, Hits Radio UK, Castle Quay, Castlefield, Manchester, M15 4PR.

Bank transfer
Please mention why you're donating in your payment reference, or better yet get in touch and let us know so we can say thank you!

Account Name: Hits Radio UK Cash for Kids
Sort Code: 12-11-03
Account No: 10359465